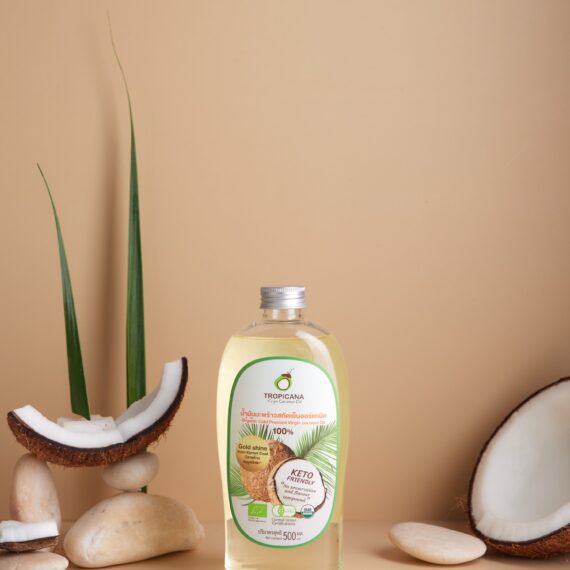 Tropicana Organic Cold Pressed Virgin Coconut Oil 500ml
Made from premium quality coconut of Roi Sai River, Tapi Basin, Southern of Thailand with the high standard cold-pressed method, derived the oil with the high amount of lauric acid, a multi-benefit fatty acid. The research has found that when the coconut oil was digested, lauric acid will be transformed to "Monolaurin", which is the same substance found in breast milk. It helps support the body's immune system and also kill harmful pathogens like bacteria, virus, yeast, and fungi.
-Tropicana Organic Cold-Pressed Virgin Coconut Oil has a low moisture content level
-No chemical additive ingredient, antioxidant, or flavor.
-100% from natural source that you can trust.
29
people are viewing this right now
Description
The benefit of cold-pressed coconut oil
-Support immune system
-Help the body to boost metabolism
-Maintain good oral and dental health
-Facial treatment
-Baby's skin nourishing and treatment
-Hair nourishing and treatment
-Body nourishing and treatment
-Lips nourishing and treatment
*Coconut oil is commonly solidified under 25-degree Celsius. It melts and turns to colorless oil when the temperature increases, and the quality remains unchanged.
Additional information
| | |
| --- | --- |
| Weight | 0.64 kg |
| Dimensions | 17.0 × 13.0 × 11.0 cm |